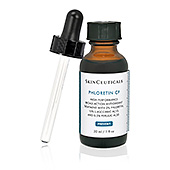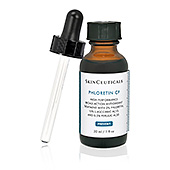 Phloretin CF
AKB $165.00
| RETAIL $166.00
PDID: #10682
Size 30 ml 1 oz
Always Authentic, Always Affordable! Learn more
Our international buyers source products directly from manufacturers, authorized distributors, and high-end department stores to guarantee product authenticity and quality. Depending on the country or beauty market the products come from, the packaging and label may look slightly different than what you see on the shelf in U.S. stores. We eliminate expensive advertising, gift wrapping, and samples to offer authentic luxury brands at prices that average 10 - 40% less than retail.
SkinCeuticals Phloretin CF with a highly potent and unique molecular combination. That is optimized to protect the spectrum of cell types by shielding their DNA from environmental attack in the deeper laers of the epidermis. Also by Phloretin CF, it can boost the skins with collagen and elastin levels inside. Make firmer and more radiant skins as younger looking. SkinCeuticals developed this patent-pending breakthrough technology combining the newly-discovered, broad-range power of phloretin with vitamin C and ferulic acid in a biodiverse formulation to divide and conquer sources of damage at every level.
Water, Dipropylene Glycol, Alcohol Denat.